When a baby turns one, parents get a new look at how their child is growing and changing. From getting stronger to making smarter choices, their child is sure to amaze them. But this can't happen if parents don't spend time helping their toddlers learn new skills.
Activities that are right for their age. This article has a list of activities that are great for toddlers who are 16 months old. Plan your baby's playtime around these fun things that are sure to become your favorites too!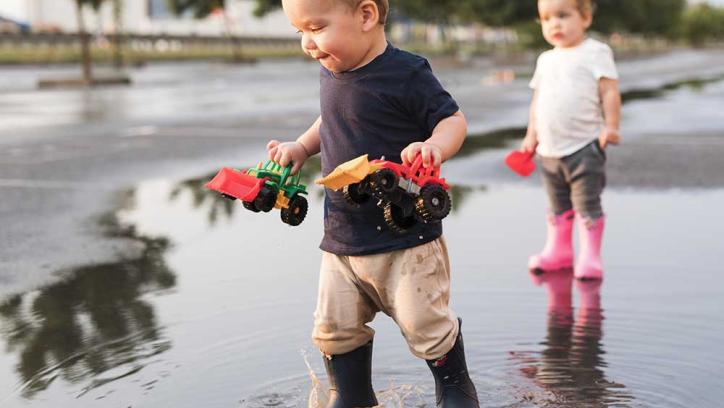 By 16 months, babies can start to move around more. Their sleep habits change, too. They nap less often during the day. So, you'll need a lot of ideas to keep your child busy throughout the day. The ideas below will help you out when you need them the most.
The Tiny Helper
When a child is 16 months or older, they can copy what they see. It's the best time to teach them good habits and to help them improve their motor skills and hand muscle strength. That's exactly what this activity will assist you in doing. After he plays with his toys, ask your child to help you put them back in his toy box. Or, give him a towel to clean his table when he's done eating.
For more fun, please move to a porch or safe balcony and give him a small bucket of soapy water and a piece of cloth. Show him how to clean up the area. You won't get the best possible results, but your child will have fun and learn responsibility and discipline through this activity.
Reading + Role-Play
You must have read your little one a lot of stories. Your toddler must have his favorite books on the shelf, ready for you to read them. This is one step up from reading. It involves playing different roles and can help your child learn, listen, and enhance his language skills. 
Choose a story and interpret it aloud while you get your little one ready to go on an adventure. Dress up like the story's characters or make funny noises to make it even more fun. Your little one will enjoy it.
Musical Jam
We love musical jams because they have a lot of music and fun. Bring out all the toys that make music you bought for your child. Not got any? No problem. Get some bowls and wooden spoons and dress up one little performer. Then, play some music and tell your little one to move to the beat. This can help your child get better at moving his or her body, coordinating his or her eyes and hands, and listening.
Water Fun
Kids love to do this, especially when it's hot in the summer. And you don't need to give them anything else to keep them busy. You're all set if you have a baby tub or a baby pool. Put some of your toddler's toys in the water and fill the tub halfway.
You can also put spoons made of wood and cups made of plastic. Let him splash in the water, play with his toys, and laugh pure joyfully. This is a great way to help your child cool down and improve his motor skills, coordination, and hand and upper body strength.
Passing the Parcel
This is a classic way to help your child improve his eye-hand coordination, concentration, and motor skills. Take a ball, stuffed toy, or soft pillow and throw it gently at him, aiming for his hands if you can. This will make him more likely to try to catch or pick up the thing. Then, tell him to throw it your way. When he throws, his arm muscles can also get stronger.
Sorting Fun
When your child's stuff is lying around, you can ask your toddler to help you put things in baskets. Say you have a load of clean laundry, and your baby's toys are all over the floor. Make two baskets, put them about 3 feet apart, and tell your little one to put the toys in one basket and the clothes in the other.
You'll have to join in and keep showing your toddler how to do it if they don't understand it after the first few times. Your child will walk more because of this activity, strengthening his leg muscles and improving his eye-hand coordination, motor skills, and memory. You can also tell him the thing's name out loud so he can learn new words.
Bubble Burst!
Who doesn't like bubble wrap? If you did this with your toddler, you and he would love it. Get a piece of bubble wrap and wash it with water and soap to get rid of any dirt or germs it might have on it. When it's dry, put it on the floor before your child and start popping bubbles one at a time.
Your toddler will also start to burst. Let him be patient. He can improve his pincer grasp and build up the small muscles in his hands by popping bubbles on bubble wrap. To make the activity more interesting, point at a bubble and tell your baby to pop it. This will also help him work on his eye-hand coordination.
Foodie Fun
If your toddler is picky about what he eats, you can sneak food into his activities, and he won't even know he ate. For this activity, your child will require finger food or broken cereal that is easy to swallow. Put two bowls in front of him. One should have food in it, and the other should be empty. Sit in front of your child and put one piece of food in the empty bowl.
Keep doing it as you try to get your child to join you. You can also keep his attention by singing and dancing a little. When their toddler starts to act like you, put a little food in your mouth and begin chewing. Again, try to get him to do it. This activity will help your child eat his food, but it will also improve his listening skills, motor skills, eye-hand coordination, and language.
The Little Paleontologist
This is a fun way to improve your toddler's ability to pay attention and move his or her body. It would help if you had a tray, toys, and brightly colored tissue paper. Spread three or four toys on the tray and cover them with a few sheets of tissue paper. Put a few more toys on it and cover it with more tissue paper.
This way, you can add one or two more layers. Start by searching for a toy and pulling it out by touching the tissue on the tray. Keep doing it until your child starts copying you and looking for the toys and pulling them out. Put a big bowl or basket beside the child so that he can put his toys in it.
Water Painting
This kind of painting with water doesn't need any paint. All you need is water in a small bowl, a paintbrush, and construction paper. When you put the paintbrush in the water and paint something on the paper, ensure your child is paying attention. Then give him the paintbrush and then let him paint.
Painting with a brush is relaxing and makes your grip stronger, improves your eye-hand coordination, and makes you more creative. Children grow up quickly, so spend as much time as you can with your 16-month-old toddler to make the most of this time.
The above activities will not only be good for your child's body and mind, but they will also assist you and your child in feeling closer to each other. Try them out and tell us if your little one likes them.