Toddlers are full of energy, and it can be hard for their parents to get them to sit still and pay attention to one thing. The first three years of a child's life are very important for learning and development, but almost 90% of a child's brain development occurs by age 5.
What your little one learns in his first few years can shape his life. As a parent, you should try to get your child involved in activities that help him learn and grow. We've put together a list of fun indoor activities that will keep your child busy without taking away from the fun.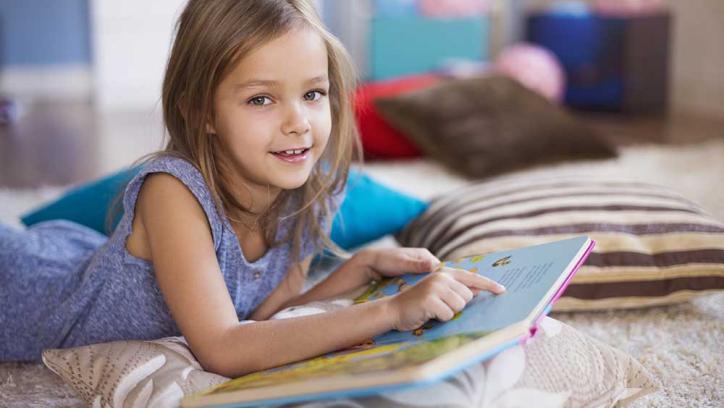 Activities to Help Your Toddler's Brain Develop
Give your child these fun ways to learn to help him improve his thinking and language skills. These simple games are just brain exercises that help him remember things and solve problems. They will also get him ready for school.
Reading
We know your child might not be old enough to read yet, so you'll have to read to him instead. Choose a storybook that is right for your toddler, like one with a simple plot and lots of pictures, and read it to them. 
Then read the story out loud, making sure to change the tone of your voice for each character and make animated movements. Different parts of his brain will be stimulated by hearing new sounds and words and seeing new pictures and colors.
As he listens to you carefully and tries to understand the story, he will improve his ability to imagine, use vocabulary, pay attention, and listen. Children, especially toddlers, are easily influenced and learn most by watching and copying what their parents do. So if you read to your little one, you'll also teach them to read, which is a good habit with many benefits.
Coloring
Your child doesn't have to be an artist to color or paint. He will be busy for a long time coloring, and if he likes it, it could become a hobby he keeps for life. You can get him crayons and a coloring book with pictures of different animals or flowers. Get your child Camlin Child Grip Crayons that are decided to be made with special non-toxic materials. Five different colors are safe for a toddler to use.
Because of how they are made, they are easy for your child to hold. This can help him get a better grip, which will help him in the long run. Coloring can help him improve his fine motor abilities and hand-eye coordination, as well as his creativity, ability to focus, and, in the long run, his cognitive skills. Let him color as much as he wants!
Sorting by color or shape
For this activity, put blocks, colorful pom poms, or colorful buttons in a box and teach your toddler to sort them by color, shape, and size. As your child gets better at this activity, you can move up a level and ask him to take things like stainless steel bowls and glasses out of the dishwasher and place them in the appropriate drawers. Your child will soon be able to sort as well as group things on his own. This is a very brain-stimulating task!
Putting up Cups or Blocks
Little kids love to stack things! And as they do it, their hand-eye coordination, fine motor skills, and ability to focus get better. You can teach your toddler how to stack things by giving him stacking cups, stacking rings, or even building blocks. Let him stack his toys as high as he can, or let him put them inside each other. This activity helps him learn to recognize shapes and colors and count and put things in order.
Test-Driving Textures
Toddlers learn through their senses and using their senses of touch, taste, and smell helps their brains work better. You can let your child touch things with different textures, such as cotton balls, sandpaper, beans, soap, etc., and then let him try to hold each one and tell you what it feels like. This will help him get a better grip and wake up his senses.
Working on your child's grasp from an early age is also important because a good grasp is the secret to improving handwriting. Child Grip Camlin Crayons are easy for kids to hold and are made to help them get a better grip. Please give him a crayon and let him color or draw on anything. These colors can be washed off porous surfaces, so you don't have to fret about hiding the marks they leave on your walls when unexpected guests appear.
Scavenger Hunt
Children like to discover new things, and we're sure that your little bundle of joy will enjoy this hard game. Hide his favorite toys or things that are a certain color, and let him go hunting for them. It will be fun for him to look for those toys and bring them to you. It will also make him feel good about himself and improve his problem-solving ability.
Singing Action Songs or Word Songs
To help your child learn new words, sing songs with actions like "The Alphabet Song," "Twinkle, twinkle, little star," and "Row, row, row your boat." Invite him to join you in singing. He will try to copy you every day and sing in his own gibberish. He will also learn new words and try to link them to actions. He will also learn a lot about how words rhyme.
Cooking
You don't have to invite your child to help you cook something with knives and fire. But he can help you get ready (like helping clean peas). You can also teach him how to cook without a flame. Even something as simple as making him a peanut butter sandwich can keep him busy.
Plus, when he's done, he gets to eat it! It will also help him learn about the different textures and tastes of different foods. These are some things your child can do to keep his brain active and help him grow and learn. Make your child do one or two things every day.