If you were an only child, you probably remember trying to play toys and games by yourself or via your parents until you got friends. This change from being independent to interacting with others is necessary for a child's development. Toddlers learn how to get along with others and interact properly by playing with others at the same time.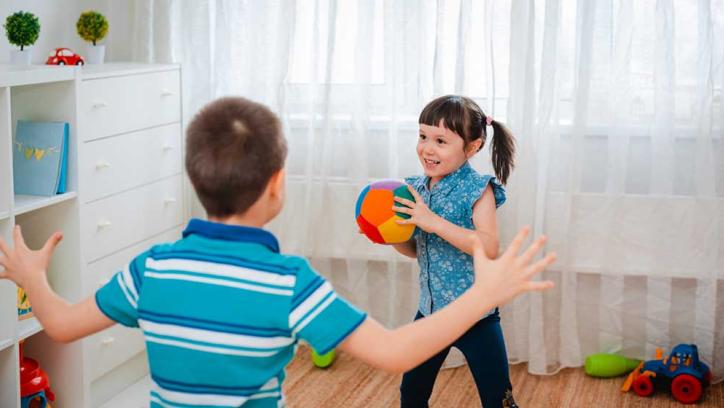 What is a parallel play?
Parallel play is when your child comes out of himself and gets ready to play with other children or people. Be it going from playing with toys by yourself to sharing them with someone else and playing together, or just going to the garden to play with other kids.
A child plays make-believe in his or her early years. As he ages, parallel play becomes a big part of his life. Parallel play is an important part of a child's development. It's the first time a child steps out of his comfort zone and tries to have another person near him while he plays and tries to make a connection with that person.
How old should a child be before they start playing with their friends?
Age is not a general factor in parallel play because every kid plays and interacts with other people at his own pace and in his way. When your baby is between one and a half and two years old, he might notice other kids playing alone but react to it.
Sometimes, he'll try to get their attention by throwing the ball back to them. As he gets older, around 3 or 4 years old, he becomes more interested and starts to understand what it means to play with friends.
Parallel Play and Its Benefits for Child Development
Parallel play is an important part of kids' growth and development in the following ways.
The Rise of Communication
Not every bit of growth and change has to be done on purpose. Some of it can happen without anyone doing anything. Your child could learn a lot by observing how other kids act, talk and think in a group or at a park. If someone calls out for a ball, he will quickly look in their direction and try to find it. This is also how many children learn new words and ways to speak a language.
Improvement of Movement Skills
When a child plays alone, he or she only thinks about the toys, and everything is pretty much under control. When your child starts to play with another child in a parallel way, he or she will know how the other child will react and will start to play in the same way.
This way of learning is at its best when learning a new sport or game. You can pick up new skills by watching how others do things. Your child will get to know the person he is playing catch-catch with and may even try to learn something new.
Freedom of Expression
All emotions, feelings, and wants can be fully expressed through different kinds of parallel play. From jumping for joy when something goes well to dealing with an injury when their child falls to getting into a fight when he does something wrong, your child learns about and expresses the full range of emotions through interactions with other people and the environment. This also helps parents understand how their child acts in everyday life.
Getting a sense of your limits
Your child won't act toward other people as he does toward you. He is now in a place where he doesn't know what he can and can't do. Even though it might be fun for him to playfully pull your hair, it is not fun for him to do the same to someone on the ground. Handling somebody who takes his ball and throws a fit because they want to play with it teaches your child what he should and shouldn't do.
Developing the Feelings of Friendship and Kindness
Most kids grow up to be very protective of the things they own. It takes them a while to figure out that things are not scarce and that sharing what they have with someone can make them both very happy.
This is when you'll be able to tell if your child is usually friendly and makes friends easily or if he is usually shy and takes his time getting to know people before deciding who to talk to. The biggest sign is that he shares his toys with other kids.
How to get kids to play together in parallel?
Try the following things to get kids to play together. But don't force a child to do something he isn't ready for. Let him take his time getting to know people; he'll get there eventually.
●    Let the kids play next to one another rather than with each other first. Let each person play with his or her toys. This is parallel play in the most literal sense of the word. It gives your child a chance to slowly step out of his or her comfort zone and then return to it.
●    Ensure there are enough toys for the kids. If your kid only has a car and the other kid has a whole set of toys, your kid will feel left out and want to play with the other kid's toys. Try setting up simpler activities like coloring books and clay molds, where it will be hard to compare the amount or quality of play.
●    Again, kids don't have to be playing all the time. Even if they watch their favorite cartoon together, your child will feel closer to the other child. The same can happen when you dance to a favorite song or watch a game together.
●    Kids sometimes argue or fight with each other. It makes sense. If there isn't a fight, your child might not want to be around anyone and go into his room or another one. For the parallel play to work, the kids must be in the same room, even if they're not talking to each other. They will talk to each other and break the ice sooner or later.
●    If kids are playing together, show them how to trade their toys and see what happens. You could also talk about both toys with involvement and try to find a way to connect them. For example, if one child has a monster toy while the other has a duck, you could ask, "What would happen if the monster decided to chase the duck?" Then, you could try making monsters and duck sounds to see how the kids react.
●    Make sure the parallel plays take place in a homey place where there aren't too many people or kids running around. This could add to their stress and make them less likely to talk to each other. While at the same time, don't let the play go on for too long. Your child might not be very interested in it at first. So a shorter period could make him feel less stressed and better ready to do it the next day.
Kids gradually learn and start to do things like play with other kids. For kids with autism or other special needs, this may be an even bigger problem. Supporting them as a parent and being a part of the team can help them try new things without fear because they know you'll always have their back. Use different examples of parallel play to make it easy for both kids, and soon their child will have his first friend.