Yoga is becoming increasingly popular worldwide among people of all ages, and this therapeutic, calming, and relaxing exercise is also great for young children or toddlers. Please read this post to learn more about yoga for 2-year-olds, including why it's good for your child, when they should start doing it, tips, and the best yoga poses.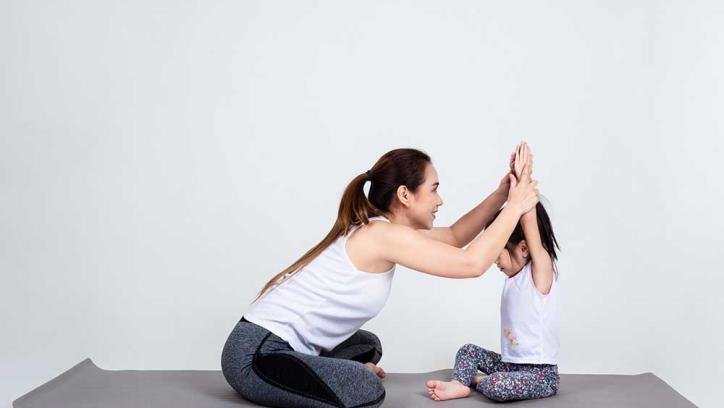 How is yoga good for children?
Even toddlers in this generation are becoming more and more dependent on different kinds of electronics. This overdependence on electronics is bad for kids' health, and getting them involved in activities like yoga for little kids helps them use their energy in good ways.
It also works well as a way to keep your emotions in check. Yoga is one of the best indoor activities for growing up, and it has many health and wellness benefits for young kids. Yoga is a great way for toddlers to build strength and flexibility when done regularly.
It also helps young, growing minds get better at coordination, balance, and being aware of their surroundings. Yoga is a great way to get to know other people, and it's also a great way to teach your child to follow directions, gain confidence, and try new things by copying what others do. Again, yoga is a great way for young kids to improve their motor skills.
When should you start teaching your child yoga?
Yoga is a form of exercise with many physical benefits, but it is also good for the mind and spirit. Most other forms of exercise only focus on the physical side. When one's child should start doing yoga is not a hard and fast rule. Toddlerhood is a very important time in a child's life because it is when they are moving from being babies to being kids and becoming more conscious of their bodies. 
At this age, their curiosity grows by leaps and bounds, and they also learn many other skills. So, now might be a good time to teach your child something useful like yoga, which is good for his or her body and mind. It's great to get kids started on something that will help them for the rest of their lives at a young age.
Tips for doing yoga with small kids
Teaching young kids anything can be fun and hard at the same time. But at this age, kids are so energetic that teaching toddlers yoga will be a fun and exciting experience. Here are some ideas for doing yoga with young children:
Be flexible with your time.
Kids like to do things at their own pace, so if your little one wants to take his time with a pose, don't rush him. You might be surprised to see how much longer he can hold a pose than you can.
Be easy on the structure.
When it concerns kids, they might want to do things their way. And if you want to stick to a rigid or fixed plan, that may not always work out. This means that if you want to do 8 to 10 poses in a certain amount of time or a certain order, it may be hard to do so with young children in the picture. But it would help if you didn't let this get you down because it will finally get your kid down too. Keep your cool and let things happen as they will.
Make it more enjoyable.
As you do yoga, tell your child something funny, act hilarious, or do something else that makes them laugh. The idea is to make yoga fun and interesting for the child. If your child enjoys it, he or she is likely to keep engaging in it for the rest of their life. Remember that you give your child happy and fulfilling memories that will stay with them for a long time.
Don't worry about perfecting the pose.
Yoga for toddlers can't be about doing everything perfectly, and mastering a pose can't be about doing everything perfectly, either. We know your child wants to learn how to strike the right pose, but you can't expect that to happen in just a few days.
If you give it time, your child may soon be able to do the yoga poses perfectly. Also, being too strict about getting the pose right can turn young kids off and make it no longer fun.
Trying using props
You can use fun props to make your child's yoga sessions more interesting. You can use stuffed animals, balls, and other similar toys to make yoga asanas more fun. It's all about making the activity you want your child to do more fun.
Try yoga with your children.
Being a good example for your child is one of the most important parts of teaching them good habits. If you do what you tell your child to do, he or she will be more likely to pick up that habit. Put your yoga mat beside your child's mat and tell him to do what you say or what the yoga teachers say if you are in a class.
Maintain control of your expectations.
You got matching yoga mats and other gear for you and your little one to make yoga class so much fun and exciting, but all your kid has to do is run around while you try to master the poses. Well, don't expect too much from toddlers because, let's face it, they aren't grown-up kids and are still attempting to figure out many things.
Let your kid be himself; he'll like doing yoga with you over time. Kids learn a lot by watching, so even when he's sitting quietly on his yoga mat or running around the room, he's doing a lot of observing.
Play good music
Music moves our hearts and minds and can also calm and relax us. Even young children can feel this. You can play music that is good for kids or music that helps you relax while doing yoga poses with your child.
Use language that is simple but engaging.
You can't just expect your child to follow you around while you do yoga. Instead, you must tell your child what to do and help him or her along the way. Make your instructions easy to understand and interesting so your child will be interested in the activity. Changing the pitch of your voice is another great way to add some fun to the session. Use different sounds, like making animal sounds, while doing yoga poses that look like animals.
Stick to a routine.
Setting up a routine is an excellent way to assist young children in forming healthy habits. Your child will get both physical and mental advantages from doing yoga regularly. So, incorporate yoga into your child's life.
Yoga Pose Ideas for Toddlers
Here are some of the greatest yoga poses for kids:
●    The Cobra Pose
●    The Cat and Cow Pose
●    The Bow Pose
●    The Butterfly Pose
●    The Corpse Pose